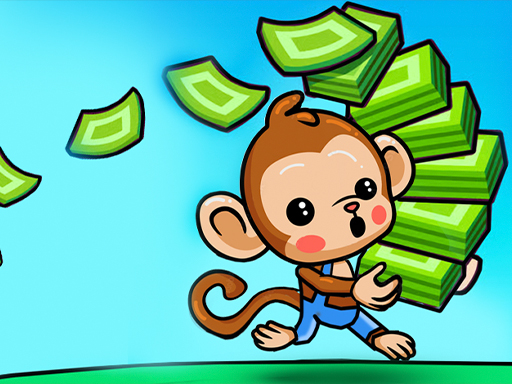 Mini Monkey Mart
Monkey Mart
Mini Monkey Mart is a typical management game combined with a business game. Player will become a monkey who wears blue overalls and works really hard to earn money. Your purpose of earning money is to upgrade and develop your small stall from beginning to a big supermarket. You will spend your day like a worker and experience lots of planting, harvesting, and trading activities. After each activity, you will receive your sweet result in cash. How exciting is that?
Gameplay
You have to move from station to station to plant fruits such as bananas, corn and harvest when everything is ready. Put goods on your stall so customers can choose which item to buy. After choosing all they need, customers will wait for you at the cashier so you can make the payment. During this progress, you will be able to unlock new products to sell. For more interesting and realistic gameplay, Monkey Mart allows you to upgrade your own character and add more space to plant and grow fruit. You can also recruit new staff in order to operate your business more smoothly. The larger your supermarket, the more customers you must accommodate. There will be many more items to unlock and diversify your business, such as breeding, milking cows, popcorn machines, ice cream, and so on. Everything is waiting for you to explore, so why don't you press the start button and play now?
Can you play Mini Monkey Mart on PC and mobile?
Players can play Monkey Mart on their PC's browser. Or play directly on mobile without installing or downloading anything.
How To Play
Control
Mini Monkey Mart is a very simple game to play. The player can use the WASD or Arrow keys to move the monkey. You are free to move around without any restraint, and the monkey will move in a light jumping motion.
Starting the game
The first thing you'll notice is a square station with a cash icon in it. Your job is to move into that station to receive cash. Because you will need capital to start your business, this game will give you two free cash stations. Right after that, you have to start working for real. Stations with icons for bananas, corn, cows, milk, chickens, eggs and so on will appear to let you know what you need to do next. Those icons are your job, when you see them, you will know what you have to do.
Start working
For those icons that are plants or fruits like bananas and corn, your job is to plant them and then wait until the game notifies you that it is time to harvest. The notification will take the form of fruits on the tree. You must always supply goods to your stall since your customers have a huge demand. The progress is basically the same for the item that you will unlock in the future. Every time you unlock a new product to sell, like cows, milk, popcorn, ice cream, etc, the station will give you detailed instructions for your job with that product. So don't be worried.
First Assistant
Your business will get to the point where you cannot manage everything by yourself. It is time for you to unlock the recruitment feature and hire more staff to help you carry out your job. You have to pay your staff when you hire them, but you don't need to think too much about spending money on recruitment because, at that point, your supermarket is on a new level, and your business has never grown that much. So just relax and hire more staff so they can do more work for you. It means that your supermarket has a better chance to upgrade and develop.
Your second supermarket
Work hard and earn more money because Monkey Mart allows you to expand your business by opening a second location. When you have lots of money, the game will offer to let you open the second. At that moment, a station will appear and receive cash from you. After that, all you need to do is start your new business like the first one. When you have to do it all over again, it sounds like anxiety, but it will not be the same as when you first start playing the game. Now you have money, staff, customer sources, and everything else that you have worked so hard to build up. So it will be easy for you to develop a second supermarket.
Related Games
Earning money and spending it to upgrade and develop your own business is fun right? Nothing feels better than working hard everyday and achieving a sweet result at the end. If you enjoy management games or business games like Mini Monkey Mart, you should try out these similar games: Garden Tales, Sleep Farm, Merge Dreams, Merge Harvest, Idle Farmer Boss. Enjoy and have fun!